The benefits of supplying black internal room dividers and how to choose the right option for your customer
Black internal doors create a classy, sophisticated feel and work well in most home interiors. A popular choice among homeowners, black internal room dividers are a reliable option no matter the style of a home. So, what are the key benefits of supplying black internal room dividers, and how do you choose the right design for a customer?
Here, we discuss:
Read the key benefits of supplying aluminium black internal doors.
Find out what factors to consider before specifying a black internal room divider.
Read the benefits of supplying Origin OI-30 Internal Doors.
What are the benefits of supplying black aluminium internal room dividers?
Black internal room dividers offer a classic, sleek appearance, and are ideal for a creating a timeless aesthetic. They also work well in most settings, no matter the decoration or colours of your customers homes. A black internal room divider is also ideal for creating a dramatic statement without being too busy or bright. Our recent research even found that black is the most sought-after colour when it comes to buying an internal room divider. Combining black doors with warmer, wooden furniture is a great way for customers to showcase and highlight an internal room divider. According to interior design experts – wooden textures and warmer shades are beginning to rise in popularity.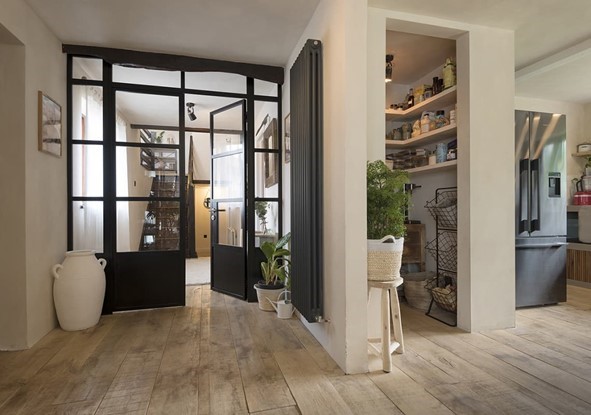 A key aspect that sets Origin's black internal room dividers apart from other options is that they are designed from premium-quality aluminium, as opposed to a weaker, less durable material. This will improve your reputation as internal room divider supplier.
Aluminium offers the following key benefits:
Provides a modern and sleek aesthetic
Aluminium provides incredible strength and durability
Aluminium internal doors are a sustainable option, as aluminium is infinitely recyclable. At Origin, we are ISO 14001 accredited, and we are continuously trying to ensure that our entire product is the most green and sustainable option. View our range of aluminium internal doors here
Aluminium is easy to maintain. Materials such as wood have a tendency to require a lot of upkeep in order to maintain their condition, aesthetic and performance. Aluminium, on the other hand, requires little-to-no upkeep
Aluminium has almost twice the lifespan of timber. At Origin, we offer a guarantee of up to 20-years on our doors and windows, meaning our products are a green choice, and provide an environmentally-friendly, long-term solution
Some aluminium internal doors have a powdercoated finish. Our OI-30 internal doors are powdercoated to withstand relentless exposure to the elements and UV light, along with the everyday excitement and vigour of family life
Are you interested in becoming a Trade Partner? Contact us today.
What factors do you need to consider when supplying black internal room dividers?
Is your customer looking for a minimalist design, or a slightly busier look?
Many internal room dividers, such as the Origin OI-30, allow you to add horizontal or vertical glazing bars. To achieve their ideal room divider style – your customers have the option of increasing or decreasing the number of glazing bars. For a more traditional design, your customers may want to increase the number of glazing bars on the door. If they are looking for a more simple, minimalistic, more modern design, you can recommend decreasing the number of glazing bars, giving larger glass panels.
Where is your customer placing their internal door?
Before specifying an internal room divider, it is important for you to be aware of the space your customer has available and the width and height options that are the most suitable for their surroundings. The frame depth for the Origin Internal Door OI-30 is 40mm and the sightline is just 30mm.
Room dividers can be used in a variety of different homes, rooms and spaces – so they are often available in a range of configuration and size options. Origin Internal Doors allow your customer to choose a door in either a Single door, French door, Fixed Screen or a combination along with a purpose-built corner post to create a corner configuration.
In addition to these configuration options, customers can also choose Fixed Screens, either to the left side, right side, or fixed above the door. As mentioned above, Fixed Screens could also be used in isolation to create a screen between rooms or allow added light without completely partitioning a space.
View our internal doors specification guide for more information.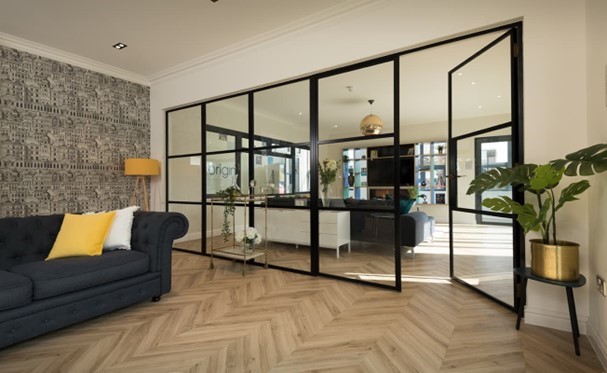 What kind of glazing does your customer want?
The type of glazing you choose can have an impact on the style, design and practicality of an internal room divider. With the Origin Internal Door, you can specify its glazing option of either 4mm, 6mm, or 6.8mm. From there, you can work with your client to determine what glass type to use – whether it be clear, frosted or reeded. Using different options such as frosted or reeded will also increase the places of where the doors can go, such as a utility room or bathroom.
Customisation options
When you choose Origin as a manufacturer and supplier for internal room dividers, you can help your customers choose from the following options:
Various handle styles and colours
Hinge colours
Different bead options
Vertical and horizontal bar options
Different sizes, colours and configurations
Hardware options such as kickplates and panels
Shop our aluminium internal room dividers today.
Why Origin?
The Origin Internal Door is also completely bespoke, allowing you to work with your customers and have complete control over choosing the best customisation to suit their requirements. Supplying bespoke internal room dividers means that you can provide your customers with the best possible option for their needs. This also means you can pick the most appropriate configuration and specification to match your customers' specific tastes and practical demands.
Our OI-30 Internal Doors are also powdercoated to withstand relentless exposure to the elements and UV light, along with the everyday excitement and vigour of family life.
Want to become a Trade Partner? Contact us today.
Related content
Understanding bifold door specifications and options