About Us
Origin is the UK's leading manufacturer of bespoke aluminium bi-folding, sliding, internal and front doors and premium quality windows. As a one-stop-shop for all aluminium doors and windows, there is a solution and product available for every client requirement and taste, whether residential or commercial.
All Origin products combine high grade aluminium with precision engineering to create functional and aesthetically pleasing products which are designed to last.
The Business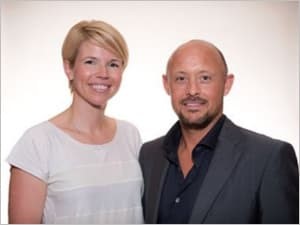 Origin was founded in 2001 by cousins, Neil Ginger and Victoria Brocklesby, after they identified a gap in the market for high quality bi-folding doors. Their ambitious response was to create a company capable of manufacturing the UK's best quality doors, backed by uncompromising levels of service. The result was the Origin Bi-fold Door, a cleverly designed sliding folding door system made from the highest quality aluminium and featuring a unique free-glide running system.
Since then, we have worked relentlessly to perfect the design and functionality of our bi-folding doors, using this experience and expertise to introduce residential doors, sliding doors, internal doors and windows to our offering. It has also cultivated a reputation that is synonymous with quality, innovation and excellence.
As a highly proficient manufacturing outfit based in Buckinghamshire, UK, we are able to retain complete control over our operations and entire supply chain, ensuring that every product is of the highest quality and arrives with our customers on time, in full. Added to this, significant investment in innovation, stock and storage reiterates why our award-winning business is seen as a reliable and dependable source by our customers, as we can offer such short lead times at such high standards.
Our commitment to excellence is second to none, currently holding the ISO 14001, 9001, 45001 accreditations, Secured by Design certification and Queen's Award for International Trade. This attention to detail, combined with a consistent drive to improve, has helped our family run business grow rapidly, now with operations in America, Dubai and Europe, a dedicated showroom at our headquarters in High Wycombe, and over 300 employees. As the business has grown and diversified, Neil and Victoria have ensured that the foundations of a family ethos have remained at the heart of everything the company does.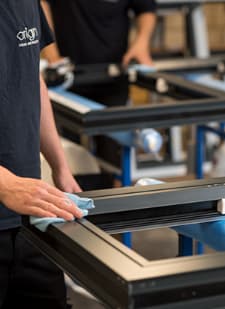 How it Works
Origin's entire operation is centred around our nationwide network of more than 1,000 UK trade Partners selling our products direct to consumers or commercial clients. Our Partners, who include builders, glazing installers and door and window showrooms, act as brand ambassadors, using their connections and experience with their customers to ensure Origin is part of any final purchasing decisions.
We also work on commercial projects – either as supply only or as a complete turnkey service in association with our Partners, using our unrivalled experience within the construction sector to help contractors, house builders, property developers and architectural practices, as well as bidding for larger scale, multi-site multi-plot projects. We offer support throughout the entire process, from tender through to design, building regulations, installation and completion, offering a 360 degree project consultation service.
Commitment to Excellence
We have worked hard to build a strong and recognisable brand within the home market, regularly being featured in and endorsed by leading media titles from the BBC and The Telegraph, through to Good Homes and Homebuilding & Renovating. This drives consumer demand directly to our Partners, raises brand awareness and product understanding amongst architects, specifiers and developers and generates interest from larger, commercial projects, all of which makes the sales process easier.
Lead times are often a problem for builders, installers, specifiers, property developers and house builders, costing them money, causing delays to projects and creating undue stress. They are not a factor with Origin, because we are able to deliver our bespoke systems within just 24 hours of an order being placed. This industry leading promise has transformed how the manufacturing sector operates and allows trade professionals to take on more business and improve their cashflow. Also, because we invest substantially in stock, production and operations, Partners know they will never miss an install day.
As well as being known for product innovation, we have also developed a revolutionary specification, ordering and quoting system, OSS, which allows customers to create orders from right across the Origin Home Range in less than five minutes. This can be done live in front of the customer on-site or in the showroom. With OSS, all products for one project are held in one place, offering improved organisational benefits.
As a British manufacturer, we have complete control over our operations, from sourcing and design, through to manufacturing and delivery, ensuring that every product is of the highest quality. This means that we can offer an unrivalled guarantee of up to 20 years – double the industry standard. Each product is also rigorously tested, exceeding current building regulations and achieving PAS 24:2016 certification.