Bi-fold door drainage guide
When opting to install bi-fold doors into property, a key consideration beyond their design and general functionality, is how they will perform for the user over the long-term, particularly against adverse weather conditions.
Bi-fold doors require proper drainage to protect properties from the weather and to ensure they are working effectively. Without this, there can be issues with flooding, leaking, damage to the doors or flooring, and problems with opening and closing the doors effectively.
---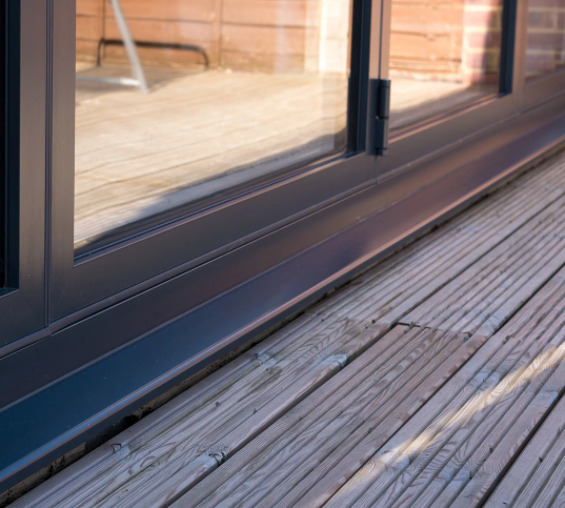 What is bi-fold door drainage?
In short, bi-fold door drainage will help to prevent water from gathering in the track of a door or getting under the threshold, and ensures the water is channelled away from the property to prevent any water accumulation or damage.
If this doesn't happen, the water can seep into the property under the door threshold and not only potentially cause damage the door's running gear, but can also cause damage to the inside of the property, such as ruining the flooring or walls. This can then be a complicated problem for the homeowner and leads to delays in future projects for you as the installer.
Why is bi-fold door drainage important?
Bi-fold door drainage is a crucial part of ensuring a fully functioning and well-maintained door system.
Bi-fold door drainage can help prevent a build-up of rainwater entering the property. Through keeping this at bay, it can help to protect a property from water and flooding, and ensure the doors and property are protected from the elements. It can also reduce any damage to the door system, threshold, patio or property as a result.
It is a legal requirement to ensure rainwater and surface water are draining away from a property legally and effectively; if there are any concerns about this, it is always worth speaking with a drainage expert for their expert guidance and advice.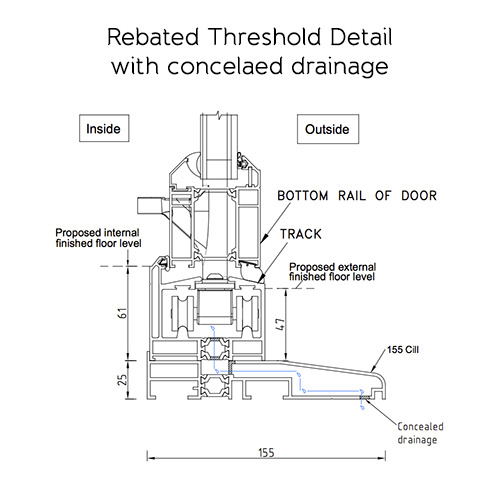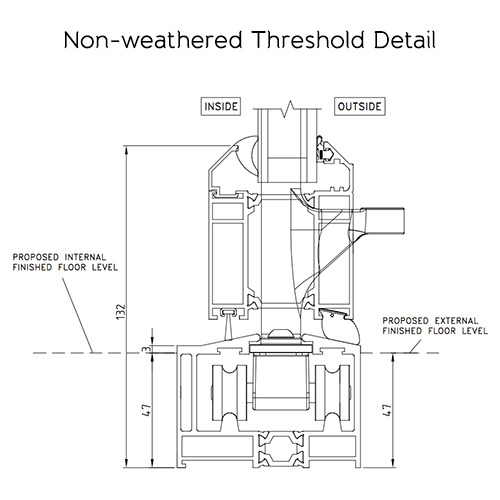 What bi-fold door drainage options are available?
When it comes to waterproofing a bi-fold door, it is important that the correct threshold is installed. Bi-fold doors can be provided with two types of threshold:
Weathered
Non-weathered (flush threshold)
The weathered bi-fold door threshold will have a lip on that the door will compress against and helps to provide protection against the elements. The non-weathered threshold does not have this and should be more used for internal use or areas where it's not exposed to the elements as it is not weather guaranteed.
There are also different types of drainage to consider: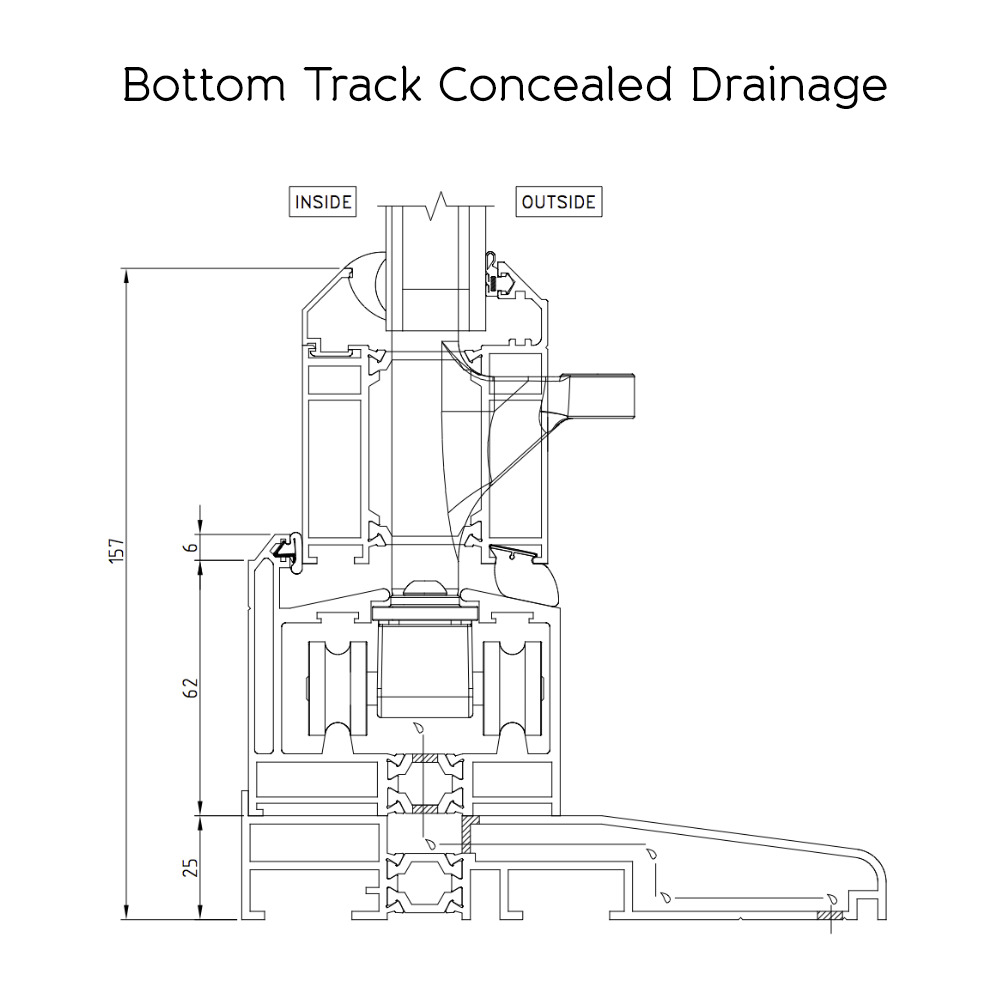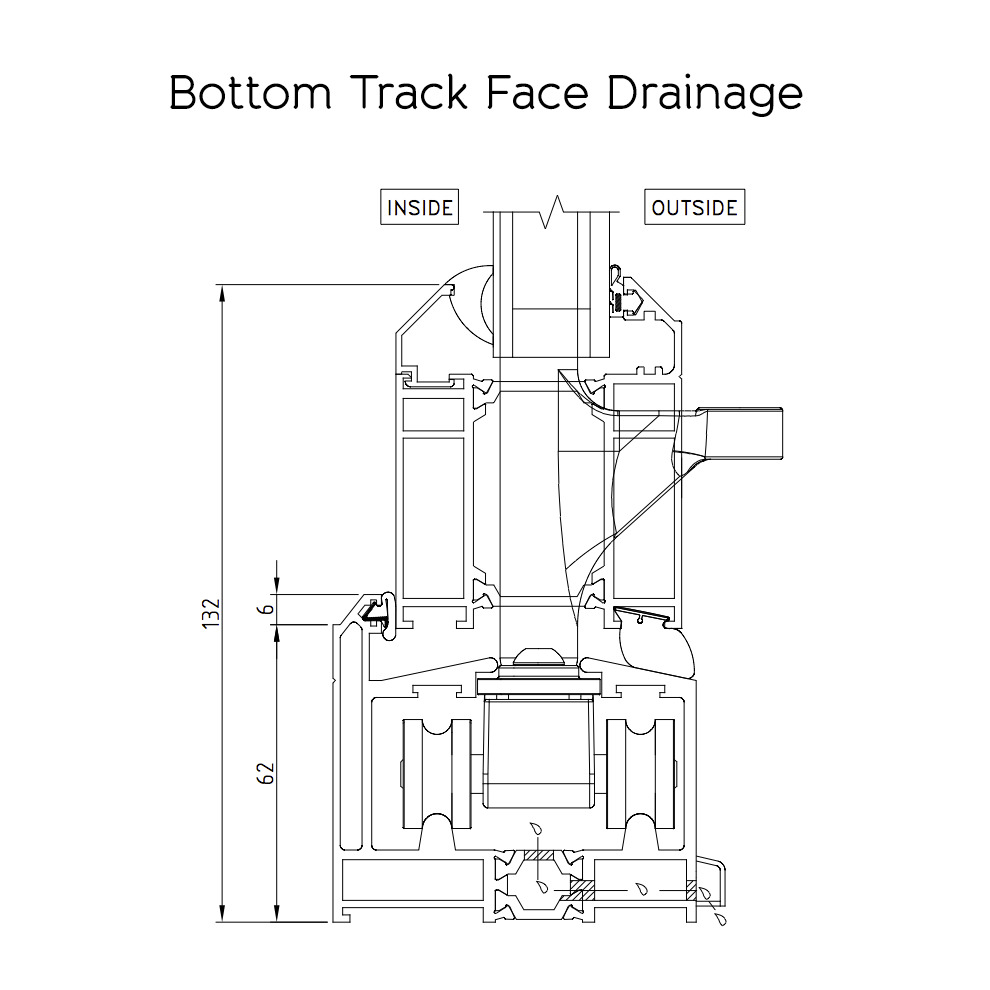 Concealed drainage
Concealed drainage means that the bi-fold door is built slightly higher up than the patio or flooring outside. Water is able to exit from the bottom track through a break in the polyamide barrier, which then goes out onto the very front edge underneath and out into the patio. This is mostly used with a cill so the water exits the bottom of the threshold, onto the cill, and projected away from the property.
Face drainage
There is also the option of face drainage. This is where the door is flush with the flooring outside. Water is able to enter into the lower chamber of the track and can leave through a capped hole on the outside. It is then typical for an Aco drain to be used on the front of the door track, which can then guide the water directly into a drain. Origin does not provide an Aco drain for bi-fold doors, so when specifying face drainage for your customers, this will need to be sourced separately.
Which types of threshold are best for bi-fold door drainage?
Weathered thresholds have proven to be highly effective for bi-fold door drainage and provide greater protection in ensuring a property is not damaged from rain and draughts. Even though it will be rebated, it is still possible to sink a weathered threshold track to make the upstand just 14mm higher than the outside and 8mm internally, making it almost completely flush between the inside and outside flooring, but still with enough of lip for the door to seal against and to keep the weather outside.
The door threshold and drainage on an Origin Bi-fold Door helps to create a sleek and stylish finish while also protecting the home from the elements and ensuring water does not start pooling. In comparison, a non-weathered threshold (or flush threshold) can be better suited to internal use or an outside area that is sheltered, to prevent water from being able to seep in under the folding doors. Find out more about bi-fold door thresholds in our guide.
In both instances, some cills can also be used to channel water away from the doors and property.
---
Supplying high-quality bi-fold doors
To achieve the best solution in terms of bi-fold door drainage, it is always worth looking to supply the highest quality option. Low-quality or mid-quality aluminium bi-fold doors will typically seek to meet minimum weather standards. However, high-quality doors, and doors manufactured by Origin have been researched and tested extensively to ensure the best solution.
This is particularly beneficial where a property is in a high-risk area for weather damage, such as coastal homes. Some other key considerations that will need to be made include air permeability, water-tightness, wind resistance and thermal qualities.
Get in touch with Origin today
If you'd like to find out more about aluminium bi-folding door drainage or about becoming an Origin Bi-fold Door supplier, please get in touch with a member of our team today. We'd welcome the opportunity to talk to you about our product range, explaining the benefits and helping you to understand how we can help to meet the needs of your project.