Supply Only
Aluminium Doors and Windows
In addition to providing you with excellent training and support from day one, we also offer the highest-quality aluminium supply only doors and windows. Aluminium is the fastest growing material for doors and windows, and can offer healthy margins when compared to the likes of uPVC. Every Origin Door and Window is made using premium grade aluminium for a smooth, flawless and effortless operation.
Our supply only aluminium products are completely bespoke, and can be tailored exactly to a customer's size requirements and accessory, colour, design and configuration needs.
Why Origin?
When you are choosing to use Origin's supply only service, you will benefit from:
Initial and ongoing training and support
Continuous research and development
Quality products manufactured in the UK
Quick lead times
Specialised trade supplier
Instant project quotes
Never miss an install day
At Origin, we strive to always deliver to you On Time and In Full – so you'll never miss an install day. By improving your project efficiency, you'll also improve your project scheduling, turnover and cashflow. By partnering with a manufacturer that you can trust, you will be sure to consistently meet the requirements of your customers.
One stop shop…
With a range of aluminium doors and windows that your customers can tailor completely to their needs, we can ensure that whatever renovation project you are working on, you will be able to offer the perfect solution.
Install easily…
We design all of our supply only doors and windows to be easy to install, and offer on-site installation training, so you and your fitters can get the job right first time. Specification files, videos, cheat sheets and other technical materials will also be readily available, as well as dedicated support teams on hand to help you with anything that you need.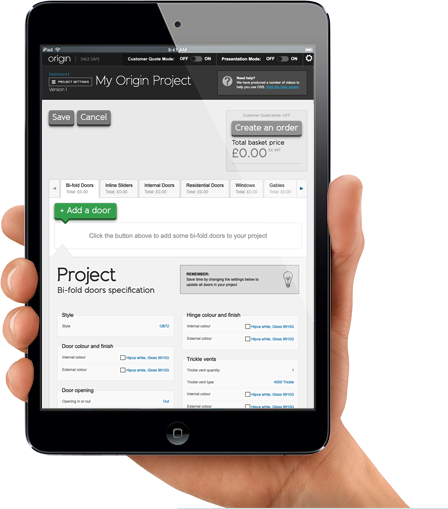 Enjoy a convenient OSS when you choose Origin's supply only doors and windows
Once you become a supplier of Origin, you will benefit from using our Origin Sale Safe (OSS) system, which will allow you to quote and order supply only doors and windows quickly and easily. Many supply only aluminium door and window suppliers can take days to get quotes back to you, which can leave you behind on meeting deadlines or may mean you could lose customers. Origin's OSS system will allow you to create project quotes in minutes, so you can let your customers know how much their desired configuration or system will cost instantly. In addition, you can quickly make tweaks and changes if your customers change their minds, producing a new quote immediately.
The Origin Home Collection Includes
Open your Origin trade account
Complete the short form below, and one of our representatives will be in touch to discuss your requirements.
Alternatively call us today on 08082233743
Are you looking for more information on the benefits of supply only aluminium doors and windows? Visit our advice centre.