Why choose aluminium bi-fold doors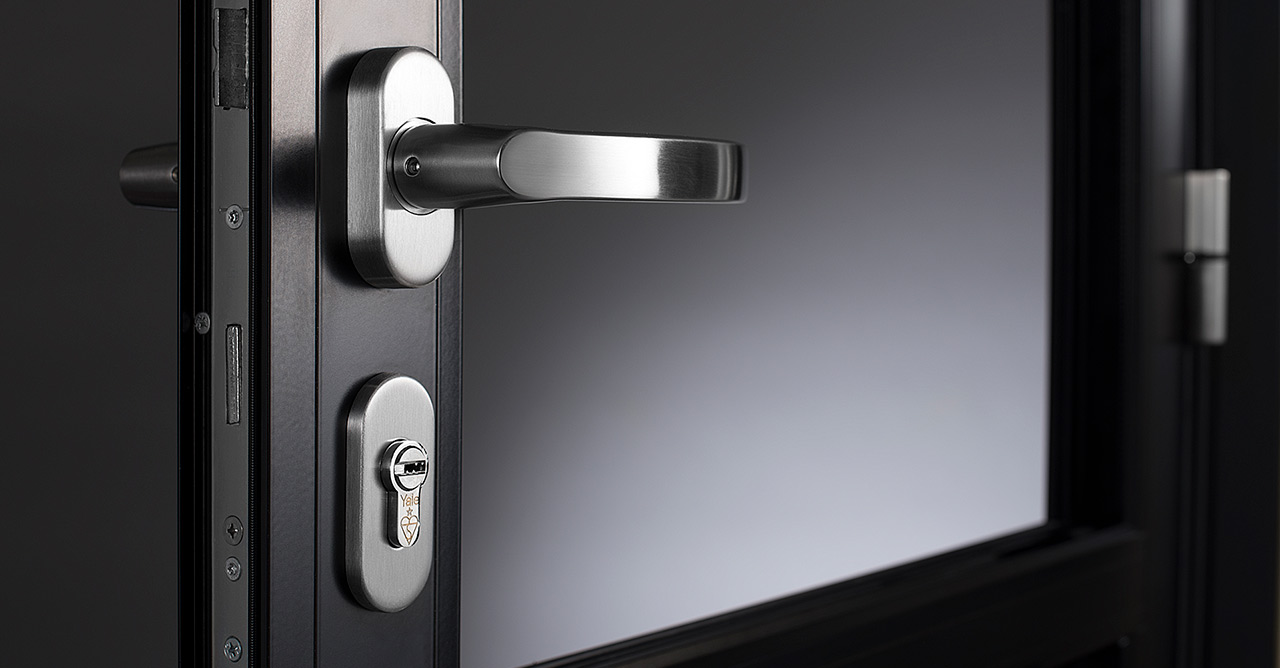 Bi-fold doors are a popular choice for many projects due to the wide panoramic views they provide, their stylish finish, and ease of access. With the option to open up a space fully, they can help to bring a garden, patio area or living space together with either an existing property, extension or as part of a new-build home.

Aluminium external bi-fold doors provide a wide range of benefits thanks to the quality and durability they provide. It's always worth considering the features and benefits to ensure they are the right type of bi-folding door for a project and your customers.
---
In this guide: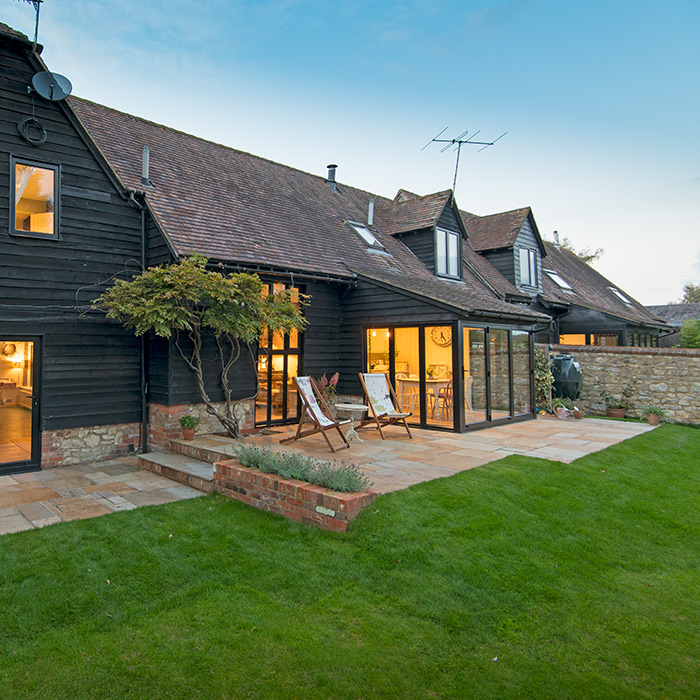 The benefits of aluminium frame bi-fold doors
Aluminium bi-fold doors offer a huge range of benefit for both homeowners and installers, all of which should be taken into consideration when choosing a bi-fold door supplier.
Thermal efficiency
While there are alternative materials for bi-fold doors, aluminium bi-folding doors can provide excellent thermal efficiency. The thermal efficiency of a bi-fold door is marked by its U-Value which identifies how well the material can prevent heat from being lost through a property.
For bi-fold doors, there are multiple factors that will work together to help create the U-Value. These include:
Uf – the thermal transmittance of the door frame
Ug – the thermal transmittance of the glazing
Uw – the thermal transmittance of the whole window (glazing and frame)
One of the key benefits of aluminium as an efficient material for thermal protection is that the frame includes a thermal break which ensures that the outer frame and inner frame are separated.
This piece of material – the polyamide break - is less conductive and helps to stop heat from being drawn out of the home during the winter, or heat from being transferred into the home during warmer weather.
The building regulations update in 2022 state that, when replacing existing doors and windows, U-Values of 1.4W/(m²K) are required, and 1.6W/(m²K) should be achieved for new builds or extensions.
Origin aluminium Bi-fold Doors exceed this as the OB-72 and OB-49 can achieve a U-Value of 1.1 when both use triple glazing.
---
Healthy product margins
Aluminium bi-fold doors are a particularly good choice for suppliers due to the healthy product margins they can offer. Aluminium is the fastest growing material for doors and windows and customers appreciate the fantastic benefits of this product and, as such, are willing to pay a premium for aluminium doors, particularly where they are custom-made to suit bespoke project requirements.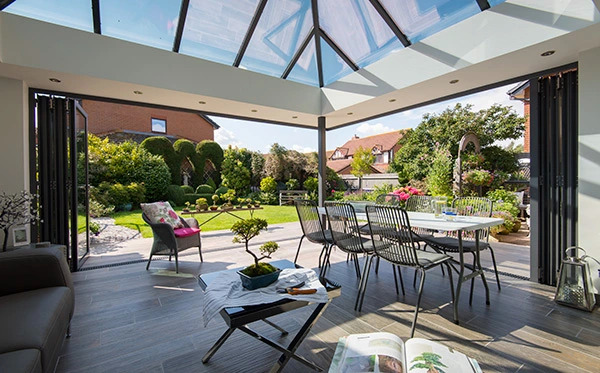 Versatility
Aluminium bi-fold doors are very versatile due to their strength, so can help support complex door layouts. The material can provide great strength and security which makes it resistant to warping and flexing, making the doors secure to protect houses from burglaries or from suffering damage through bad weather conditions.
Because of its strength, aluminium also offers much slimmer sightlines than other bi-fold door materials, which means it can let in huge amounts of light with slim sightlines while being strong by comparison. A slim frame also means the doors are not as heavy to open and move. Aluminium frames weigh 67% less than steel which means a huge range of door configurations can be created without compromising on the quality or weight of the frames.
Aluminium is also infinitely recyclable, so you can provide a choice to your customers who are buying on a green ethical front.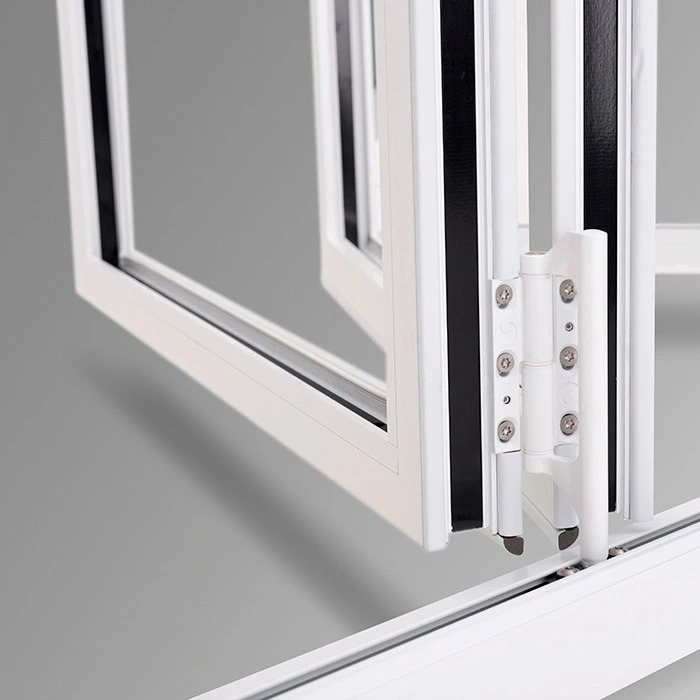 Aluminium vs other materials
Aluminium can therefore provide great thermal efficiency, versatile door layouts, security and strength. However, not only is it a great product in itself, it also stacks up well against other materials such as uPVC and timber.
Unlike wood, which can require regular maintenance to ensure it stays looking as good as possible, aluminium does not expand or contract in certain weather conditions.
In contrast to uPVC, aluminium can be made and recycled much more efficiently, making it a more eco-friendly option for the planet. It is also more lightweight and takes up less space than other materials. It's also more resilient to weather than uPVC, as uPVC has a tendency to warp and expand in harsher weather conditions which makes it difficult to operate.
Aluminium bi-fold doors tend to have the slimmest sightline out of materials available (which is the profile that separates each pane of glass). Most will go for the slimmest available as this currently on trend. Origin offer two sightlines with either 49mm or 72mm.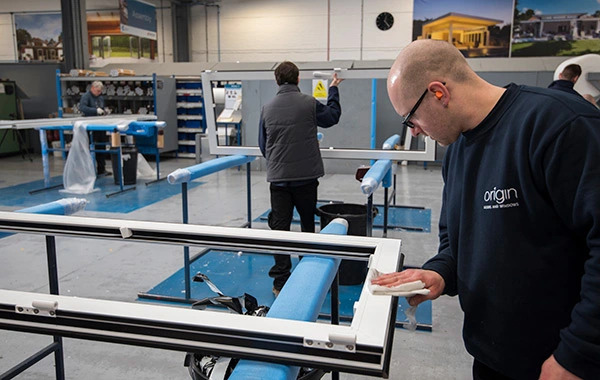 How are Origin Aluminium Bi-fold Doors made?
At Origin, our Aluminium Bi-fold Doors are made from prime billets, instead of using melted down scrap aluminium. This helps to ensure a much stronger and better-quality product. In addition, all doors sold by Origin are designed and made in-house, which means doors can be custom made to suit the exact requirements of the project.
Any bi-folding door designed and made by Origin have undergone rigorous testing, which helps to ensure the longevity of these doors.
---
The benefits of being an Origin Aluminium Bi-fold Door supplier
Sales and marketing support
At Origin, we provide a range of support for our suppliers. We ensure you have comprehensive and well-designed sales and marketing materials, and also offer support from our marketing team, to ensure you as a supplier are provided with all of the information you need. From literature and point of sale through to campaign and digital support, we will ensure you can provide the marketing materials to suit any project, property or client requirement.
Consistent
quality
At Origin, we provide consistent quality across all of our products, as a result of us designing and fabricating them ourselves. This means that each and every product we supply has been rigorously tested to ensure that both installers and homeowners get the best quality from Origin Bi-fold Doors. Consistent quality provides you with the confidence that the bi-fold doors you fit will meet requirements, and the likelihood of you having to return to site to fix problems is much lower, which helps you to stay on track with other scheduled projects.
Technical support and aftercare
As an Origin Bi-fold Door supplier, you will have access to our dedicated customer service team for ongoing advice and support surrounding our aluminium bi-fold doors. In addition, you will have access to a complete library of technical support to help with installation, specification and technical drawings.
We also provide training courses in installation, our products and how to generate sales. There's also an online quoting and ordering system that allows you to get quotes in minutes. Full training on this is also provided.
---
ISO accreditations
Origin is ISO 9001 (Quality), ISO 45001 (Health and Safety) and ISO 14001 (Environment) accredited, so you can be assured that you are supplying products from a high-quality manufacturer and can specify with confidence.
---
Become a supplier today
Get in touch with a member of our team to become an Origin Bi-fold Door supplier.